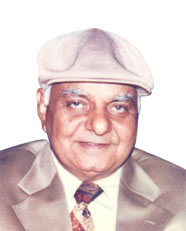 FOUNDER
Late Sh. Madan Mohan Dhawan
Mala Metals was founded in the year 1978 by Late Sh. Madan Mohan Dhawan to manufacture & supply ISI mark Gun Metal / Bronze Valves & Cocks with a goal to achieve the highest levels of perfection and excellence in the field of valve industry. The present standing of the company is mainly due to efforts & far sightedness of the founder.

Mala Metals is now AN ISO 9001:2015 Certified Company engaged in the manufacture of a vast range of more than 140 types of Industrial Valves & Boiler Mountings in Gun Metal / Bronze, Cast Iron, S.G.Iron, Cast Steel, Stainless Steel & Forged Steel materials in sizes ranging from 4mm to 200mm and SS Pipe Fittings. We manufacture Industrial Valves / Boiler Mountings as per Indian and International Standards including BS, ANSI, DIN, JIS, API. MALA has been accorded with certifications like BIS & IBR and Approvals from various Govt., Semi-Govt. and Private Sectors.

Mala Metal is equipped with in-house facilities viz. modern foundry, well equipped laboratory, precision workshop, material testing for the design & manufacture of Valves which ensures better control over the quality & timely delivery of its products. Our team of well qualified Engineers & Technocrats are always ready for any technical support & after sales services.
In recent years, Mala Metals has expended beyond India into international market place and are currently exporting valves to major countries. With a policy of continuous up-gradation of technology and processes while maintaining its cost efficiency by making optimum use of its resources & goodwill, the company is fast becoming a major player in the highly competitive global market.
Our focus area is not only cost reduction and maintaining our competitive edge but also to ensure that our business is sustainable. We would like to plan for balanced growth in a manner that when we achieve our economic targets, we also support the society and the environment.
MALA valves provide a complete line of standard and custom-designed solutions for difficult applications. The company is committed to product innovation, engineering excellence, precision manufacturing, 100% quality testing and hands-on technical assistance to the customer.